If you're looking into senior housing as you get older, there are many options to consider. How do you know which option is best for you?
Many recommend assisted living for older adults who need support, but how does it work? Learn more about assisted living, including how it works, what differs this lifestyle from others, and how to know it may be right for you.
What Is Assisted Living?
When you think of senior living, you may have many different ideas of what this is. Some think of standard retirement homes, but what is assisted living?
Assisted living is a housing option for seniors requiring help with their daily lives. Care in assisted living is catered to each individual because everyone has unique needs.
Some may need help with keeping the house tidy, while some may need help getting dressed. No matter the need, assisted living can help.
While assisted living is for older adults needing more help, residents aren't limited in what they can do. Senior living communities encourage independence, taking care of everyday maintenance and tasks so seniors can focus on their passions, hobbies, and relationships.
If you're interested in assisted living, how does it work?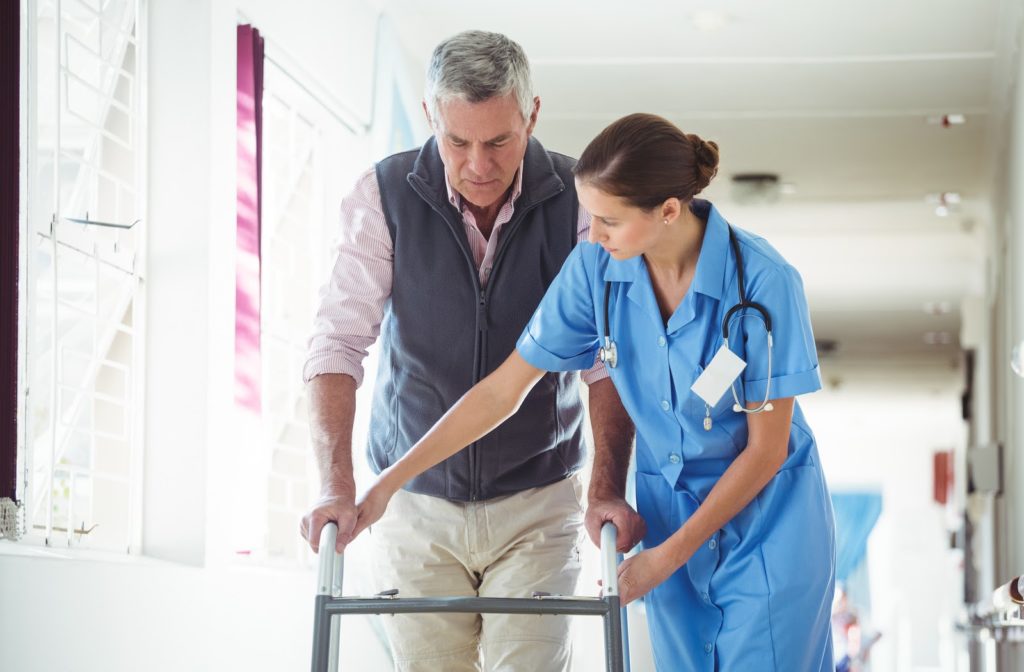 How Does Assisted Living Work?
Assisted living works by removing the strenuous aspects of life for older adults. As you age, things gradually become more difficult to do. Something you have had no issue doing prior may leave you winded and tired.
Some of the activities of daily living may become difficult to perform, such as:
Bathing yourself
Cooking
Dressing yourself
Moving by yourself
You can still be able to do these things, but you may struggle or feel tired afterward. Assisted living helps with the daily activities and tasks you struggle with, allowing you to pursue other interests.
What Does Assisted Living Offer?
Depending on the level of care you're receiving, senior living communities can offer an assortment of services and amenities for you to enjoy. From onsite staff to socializing rooms, assisted living offers you:
Housekeeping
Personalized wellness programs
Chef-prepared meals
Social, recreational, spiritual, & educational opportunities
Physician visits
24-hour staff
Wellness checks
Group activities
Socializing rooms
Private dining for friends & family
A salon
A chapel
A spa
A library
With assisted living, your apartment supports your needs. You can select from a variety of floorplans to find the best unit for you. Residents choose between studio or 1-bedroom apartments.
These apartments offer a full kitchen, individually controlled thermostats, and walk-in showers. You'll find utilities included and a response system in case of emergency.
Assisted living provides the care you need while allowing you to live independently. You can create new connections, discover new interests, and enjoy various amenities. This lifestyle has its benefits, but how does it differ from other living options?
How is Assisted Living Different from Other Living Options?
If you're looking into senior housing, you've likely heard about other options besides assisted living. You may have heard of independent living or memory care options near you. These options aim to reduce stress and allow older adults to enjoy their lives, but they offer varying levels of care.
Independent living is suited for seniors who can live independently but want the freedom to do what they like. It frees you from tedious tasks such as shopping for groceries and housekeeping. While similar to assisted living, there is less of a need for wellness check-ins or help with daily living.
Memory care is a more supportive lifestyle. Unfortunately, Alzheimer's and dementia can cause memory loss, and living alone can be difficult. Some residents may need help with eating, bathing, and other daily tasks, and memory care offers continuous support throughout the day.
The best lifestyle for you depends on the level of care you need. When should you consider assisted living as an option?
When Should You Consider Assisted Living?
If you're unsure about assisted living, it's a good idea to think about your current situation and what you need. Determining your wants and needs can help you make a final decision.
Assisted living may be a good option for you if:
You feel lonely or isolated
You have a health condition that requires regular monitoring
You need help with daily chores
You have trouble managing your hygiene
Your medications are difficult to manage
You are worried about potentially injuring yourself
If any of these are relevant to you, assisted living may be a good option for your future. You don't need to make any final decisions; if you have questions about assisted living, speaking with a senior living community representative can help.
Make the Best Decision for Your Future
There are many options to consider when looking into senior living. Before you make any final decisions, think about your needs and see if assisted living is the right choice. There are always different options you can choose from.
Regardless of your choice, if you're interested in senior living, contact your local community.